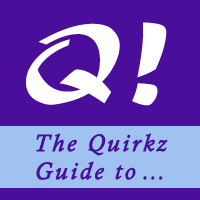 Quirkz Products

Coming soon! We are in the middle of developing the first of what we hope will be several (or many, or a thousand) Quirkz guides. The first entry: The Quirkz Guide to Self Improvement for People who Are Already Pretty Okay.

Quirkz Media's other products consist of the Aaron Rath novels: Chicagoland, The Eight-Bit Bard, and Stranger and Better.

Our remaining legacy consists of what you'll find on this site, plus s a superhero-themed, web-based role-playing game called Twilight Heroes, which has been under new management for several years, but still holds a soft spot in our hearts.