News Update: The first Aaron Rath novel, currently under the working title Chicagoland, is in edits, with a likely publication date before the end of the year. We also have a web site going up at www.aaron-rath.com.

News Update: Our automated spoonerism generator is functioning again. You can search for key words or be presented with random pairs, as you like. There are plans for improvements, including the ability to rate your favorites and add new ones. In the meantime, enjoy: spoonerisms to enjoy now.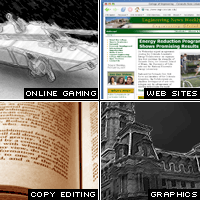 Quirkz Business:

The business side of Quirkz Media involves providing products and services such as online games, web site design, copy editing, and similar such features.

Press releases.


Quirkz Creative

Quirkz creative depicts some of the non-business creative efforts of the Quirkz Media team—primarily the owner, Ross Patty. A lot of these materials have been around for a while, and—especially in the case of the duct tape art gallery—they are things that we don't want to take off of the internet, so they're still listed here. A lot of the materials contain off-the-wall humor, and are intended to represent Quirkz Media's playful spirit, but aren't meant to be representative of current business-quality work. In other words: this stuff is here just for fun.